You might have already heard stories about how luxurious and care-free your new lifestyle is when you start RVing. While all of them are true, RVing doesn't start to sail that smoothly.
It always starts with handling documentation, meeting your broker, dealing with negotiation, and a whole lot of processes to lock in a deal for a new home.
If you're interested in getting an RV for your permanent residence or use only for weekend getaways, you definitely need to know these tips and tricks in RV financing. Though RV financing and home mortgage have similarities, you also need to know what makes them different.
Interest rates for home loans these days are a bit lower due to the pandemic. But when it comes to RV loans, it isn't that sure.
RV Financing Tips and Tricks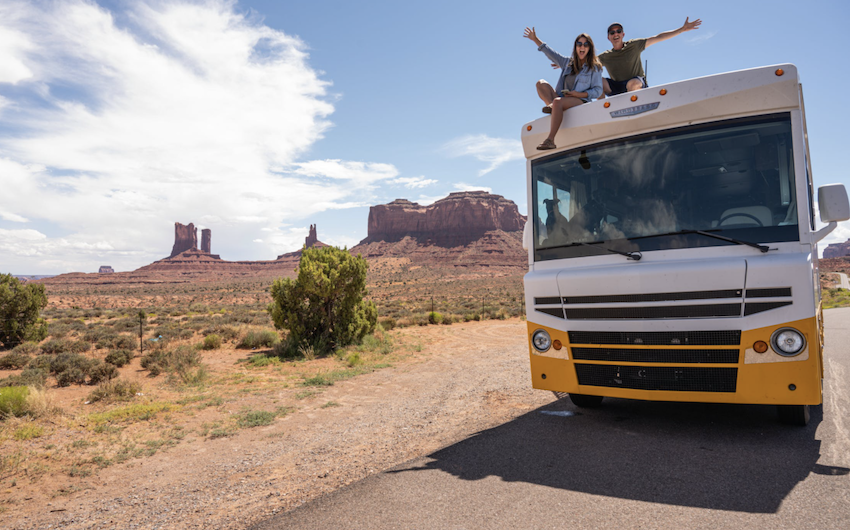 We like to compare RV financing and a home mortgage because new and potential RV owners can easily project the similarities. Also, these new RV owners will have a perspective when they buy one. Furthermore, they both have a primary goal: residency.
However, living in an RV requires a different lifestyle from living in a house. To help you out, here are some RV financing tips and tricks that might help you as you plan to take an RV financing in the future.
Always Do Your Research
Just like applying for home loans, borrowers are highly advised to always do their research when taking out an RV financing. It would be best if you always do your research beforehand. You can't just jump right away into the open and apply to the first lender that offers RV financing to you.
As per Kevin Wallenbeck of Interact RV, his first mistake in buying an RV is that he never researched. Therefore, what he thought to be the "perfect camper" for his family didn't end that well. He realized that he didn't get the best deal on financing.
He stressed out that mistakes like that can't be blamed on your dealership. It's your responsibility as the buyer and the interested applicant to do your homework.
His best advice is never to get too excited, press the pause button first, breathe, and discuss all the information you have. This way, you have the chance to evaluate and lock in with the best deal.
Signing up with a good RV financing deal has a lot to do with your finances after you have the RV. Besides that, keep the costs of insurance expenses in your mind.
Take Time To Shop Around
Alongside doing your research is to diligently and actively go and shop around. That starts with looking for the right financing company, searching out for the best yards that offer a great range of RV, conduct factory visits, and even go around looking for local RV campgrounds that are essential in RV financing.
According to a local California-based camper, David R. Busse, he visited the Airstream factory and researched there. After that daring factory visit, he came up with a solid negotiation with his local dealer and locked in what he wants to call "the best decision ever."
Another example is Derree Kamp, a Montana-based camper, where he bought his revamped 1959 Shasta trailer. Much as a surprise, the trailer is not even listed yet, which makes up to be a good thing as he spotted it beforehand. He asked the owners if they wanted to sell it, negotiated a price, and locked it in.
You see, things like that happen when you are eager. Shopping around might be a little time-consuming, but it's worth it.
Buy What You Can Only Afford
Taking out an RV for the first time is a daunting task. However, expert bloggers and campers always suggest that you shouldn't go around boasting about buying an RV if you can't afford the price tag.
It's understandable that you want to go all out with your first RV but don't just think of the upfront cost such as the down payment, the interest, and the monthly repayments when you take out an RV financing; there's more than that.
The best thing to do is to pick the one that you can afford. Consider after-purchase expenses such as gas, maintenance, and other stuff that RV living requires.
If you're having some trouble with it, you can contact My Financing USA to help you in handling your RV financing. They can even guide you and discuss essential things that can help you manage your finances so it won't affect your RV financing in the future.
It's Not That Bad To Have An Old RV
Just like buying a house, it's not always a bad thing to purchase a house that's renovated or listed in the market for a repossession. Take it from RV bloggers and couple Eric and Brittany Highland of RV Wanderlust.
It's never wrong to take out a brand new RV. However, taking out a 3-year old RV can be a smart move. RV original warranty gives you peace of mind, but you might find yourself and your RV spending days and nights in the shop due to the "shake-down period."
So, a 3-year old RV has already been tested, got its wheels on the road, experienced the shake-down period, and someone else already handled the initial repairs and the depreciation duration. But always consider being thorough with your purchase so you can enjoy the travel more.
Takeaway
Living in an RV gives you a taste of a different lifestyle. Living on a road, going to different places, seeing and meeting new people, and most definitely, you're not trapped in a four-cornered room.
RVing is a luxurious lifestyle, indeed. But with the boom of an RV purchase, it became accessible for anyone. And with the help of RV financing, it became affordable.
However, due to a lack of information and resources, purchasing an RV will take a toll on your finances. Unwise and aggressive decision-making will hurt your finances, and it's a problem that you don't want to have.
That's why you should always take your time to make monetary decisions if you don't want to live with the consequences.