Over the past decade, the world has experienced several disasters starting with Hurricane Katrina in the US to the Southeast Asian Tsunami. Every year, these natural disasters, earthquakes, hurricanes, tornadoes, and floods – continue to wreak havoc and leave a lot of damage in their wake.
For instance, if an earthquake was to occur in a certain area, cities will be flattened and so will the cars. In case of floods, cars will be swept away along with other properties. Without insurance especially car insurance, you would be forced to spend your money either to have the car repaired or to purchase a new one. If you had savings, such purchase will leave a major dent in your account but thanks to motor insurance, you are covered.
So, Does Car Insurance Cover Natural Disasters?
Let's See!
What are the Largest Natural Threats To Automobiles?
Hurricanes & Tornadoes
A vast majority of people living in Mid-Western states and the Gulf Region in the US are familiar with tornadoes and hurricanes. When such storms make landfall, not only do heavy winds sweep away barns, homes, crops, and trees but they can cause the same things to fly into or onto your vehicle.
As a result, your car will experience a lot of damage especially if it was in your driveway or parking lot. Did you know that Hurricane Katrina is considered the costliest tropical cyclone and one of the top 5 deadliest hurricanes? It was estimated that the total property damage as a result of Hurricane Katrina amounted to $125 billion in 2005 USD.
Floods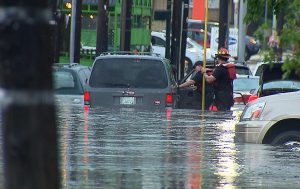 Every year floods damage thousands of automobiles. In areas where hurricanes are frequent, floods occur as a result of rising rivers and ocean. In some cases, earthquakes may occur in the ocean leading to a tsunami. As a result, seawater is driven towards the closest landmass in giant waves leading to flooding.
On other occasions, heavy rainfall in certain parts of the country may cause the rivers to swell. Towns closest to the rivers will be flooded leading to extensive damage to property and automobiles.
Did you know that flood-damaged cars are too damaged to be used on the road again?
Learn more about flood-damaged car insurance.
Fire
In California, forest fires are quite common every year. For instance, the Thomas Fire of 2017 is considered as one of the largest to have affected California. Over 1,000 structures including homes and business premises were destroyed.
Other wildfires that have razed California include the Zaca fire which burned more than 240,000 acres. This happened in 2007. 40 years ago, the Romero Canyon was razed by another wildfire. What you ought to know is that all communities are susceptible to forest fires even though they don't reside in California
When wildfires come into contact with your car, it will be burned into a crisp. Not only will the windshield be melted but the paint job will be charred together with the tires and the car interior.
To protect yourself, you need comprehensive insurance cover for your car.
Is your car protected against natural disasters?
Yes, your car is protected especially if you have taken comprehensive motor vehicle insurance. This means if your car is damaged in a hurricane, floods or any other natural disaster, your insurer will help to cover the damage to the car.
During a hurricane, excessive winds and heavy rains will result in hazardous driving conditions, As a result, you may end up hitting another car or a stationary object along the road if you were driving. If you have comprehensive insurance cover, your insurer will cover damages related to the circumstances above.
It is important to note that your insurer may require you to pay a deductible, which is the amount you are responsible for just before your policy limits start.
If your car was parked in an affected area, damage to it will be categorized as other-than-collision. This is typically covered under your comprehensive coverage. You can get more about collision coverage in this post.
Apart from natural disasters, comprehensive coverage protects you against theft, damage from animals and vandalism.
Does comprehensive car insurance cover against tree damage and lightning?
Yes, it does especially if the tree or tree branches fell on your car during a natural disaster such as hurricanes, tornadoes, lightning, wildfires, and floods. The coverage will ensure that you get to repair or replace your vehicle.
How to protect your car against natural disasters
Use a hail protector or cover
If you are used to parking your car in your driveway and the area is prone to hailstorms, tornadoes, and hurricanes, it's advisable to cover your car using a hail protector. Not only will this prevent dents and scratches on your car but it will prevent water from leaking into the car interior via the sunroof.
Choose your parking spot wisely
Do you park your car under large trees? Well, from now on, choose to park somewhere else, for instance, a parking garage or your garage. Parking under trees and your area is prone to wind storms will result in your car being damaged by falling tree branches and the trees themselves.
Pay attention to the weather forecast
Always stay informed on the weekly weather forecast in your area. There are tons of mobile apps which can keep you informed in regards to the weather forecast.
Select the right car insurance provider
Choosing the right car insurance provider means that you will benefit from the right policy – comprehensive coverage among others.